Share
Regular price
Sale price
$8.67
Unit price
per
Sale
Sold out
About this item
Taste the World's Flavors!®
Gorgeous in salads or appetizers
Consistent quality and freshness year round
Greenhouse-grown, vine-ripened and hand-picked snacking tomatoes
A variety of tomatoes in an exquisite array of colours, shapes, and flavors
Description
Taste the World's Flavors®! Tomato artistry from around the world culminates in this delightful array of colors, shapes, and to-die-for flavors .These tomatoes are vine-ripened to perfection and hand-picked in our greenhouses to ensure consistent quality and freshness. Low in saturated fat and cholesterol, these lovelies are rich in lycopene, a powerful antioxidant that can help prevent cancer. Beautiful and healthy, what more could you want? Once you try them all, you will never see or taste tomatoes the same way again. You might even become a tomato aficionado!
Recipe: SUNSET® Wild Wonders® Pizza Bianca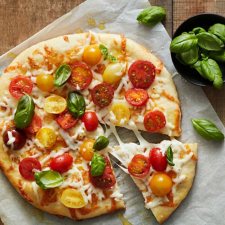 What You'll Need
2 lb store-bought pizza dough, brought to room temperature
All-purpose flour for dusting
4 tbsp olive oil
1 tbsp minced fresh garlic
1/2 tsp kosher salt
2 c shredded mozzarella
3 c thinly sliced Wild Wonders® tomatoes
20 fresh basil leaves
Coarse sea salt to finish
How to Make It
Position rack to center of oven. Preheat oven to 450° F.
Lightly grease a clean baking sheet with olive oil. If pizza dough is refrigerated, remove from fridge and let come up to room temperature, covered loosely with a clean towel.
In a small bowl, combine 2 tablespoons of olive oil with garlic and kosher salt. Set aside.
Dust a clean working surface with a small amount of flour. Divide the pizza dough into 4 equal portions and form each portion into a round shape. Keep the other portions covered with a tea towel as you prepare and bake each individual pizza.
Using a lightly floured rolling pin, roll out the first portion of dough into an 8 – 9-inch circle, about 1/4" thick. Carefully transfer dough to prepared baking sheet.
Brush top of dough with ¼ of the garlic-oil mixture and evenly sprinkle 1/2 cup mozzarella. Arrange tomatoes evenly over mozzarella. Top with 4 – 5 basil leaves and bake until cheese is melted, bubbly, and lightly browned on edges, and tomatoes have slightly softened, about 12 minutes.
Carefully transfer pizza to a cutting board and finish with a touch of sea salt over the tomatoes. Let pizza rest for a minute or two before serving (the tomatoes will be very hot and juicy!).
Makes 4 pizzas.
Chef's Notes: Just before serving, finish the pizzas with a drizzle of extra virgin olive oil.
Policies & plans
Specifications
Non-GMO verified
Net weight: 1.5 pounds
Low in saturated fat and cholestrol
View full details